Portland Victoria to Penola, South Australia.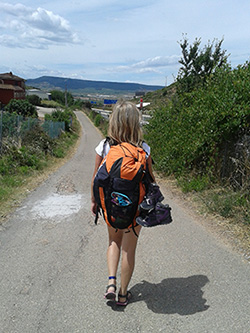 The first of the Australian Camino experiences was inspired by three workmates in April 2013 when they set out on a pilgrimage they called the 'Aussie Camino.' On the way they discussed the history, customs and traditions of the ancient pilgrim trails in Europe and the Holy lands centered on the spiritual path of Saints. It was concluded the initial Camino should be in honor of St. Mary MacKillop, Australia's only canonized Saint, who traveled widely in Australia and New Zealand in her spiritual quest for the needy. As Mary was reportedly born in Penola, South Australia and finished her last teaching post in Portland Victoria, that route is is followed as 'The Way' for soul searching, letting go tragic circumstance or travelers keen to experience the great Australian outdoors. Based on the traditions of the Camino de Santiago, pilgrims receive a guidebook, passport, scallop shell and stay in local towns along the way.Those who are hardy and use to doing international pilgrimages may choose to organizing their own group. As a relatively new walk that has less support, please contact me by email : pilgrim@caminoway.com.au if you need assistants to plan your trip or if wish to join a group.
Every point of the compass in Australia heralds the opportunity for pilgrimage. These walks vary from a one day trek weeks on end. The most useful tool to determine the type of walk you desire to experience is the All Trails APP for your mobile phone or iPad. The App features direction guide. navigate and the choice of sharing the chosen walk with like minded travelers. It features a description of the walk, length and elevation, route type, degree of difficulty and interesting features along the way. It also gives a weather guide, UV index and temperature indicator with photos uploaded by past trampers of the trail. The AllTrails App is a must for walking on the wild side in Australia.
In New South Wales State, seasoned walkers who like to trek on long distance trails with a greater degree of difficulty than most in Australia typically take on Great Northern Walk of 100Km from Sydney to Newcastle for an Australian National Parks hike. Whilst others tramp the wilds of The New England Ranges, the Mid North Coast and Central Coast. It is advisable to join a local walking group rather than venture out into the wilderness in the bush in Australia. Here you may wish to revert back to my Tips for Walkers page on this website and check out the What to Pack page also. A more expansive detail of walking groups in each of the Australia States is worthy of checking out on Google. The most notable and worthy of mention adventure trails in Victorian are the 5 day walking trails of The Mornington Peninsula and The Great Ocean Walk. In the wild of Western Australia another Camino trail exists. It the Camino Salvado Pilgrimage Trail- 9 days of hiking thought wildflower country. Again a search on Google or reference to our email may be a consideration. Tasmania likewise has some fabulous walks including the Freycinet Experience, the Cascades Track, the Julius River Rainforest walk or the famous Cradel Mountain- Lake walk.
In New Zealand there are a lifetime of tramping trails to experience. Most require a great deal of planning a they are backpacker dream journey but require the tramper to carry and cook their own food. It is advisable to contact the (NZ) Department of Conservation – https:// www.doc.govt. nz/ parks- and-recreation/things-to-do /walking-and- tramping/ great walks/ to ensure your park entry and hut accommodation available. You will also be helped by the Park Rangers with detailed maps and guided information that is provided.
Should you wish to seek our services for an Itinerary or quote for Australian or New Zealand packed tramps please contact via the email herein.